Overview
__________________________________________________
NOTE:
Effective February 1, 2021, Noble Company will make a running change to the drain base height of its FreeStyle Linear Drain.
Previously, the height of the drain base ranged from 1¼" high for a 24" drain, to 1⅝" high for a 60" drain.
Going forward, ALL FreeStyle Linear Drain bases will have a height of 1¼".
This change will provide for consistency across all drains and the ability to standardize on floor heights when using different drain lengths, all while maintaining an internal slope to drain to rid the system of waste water.
__________________________________________________
Rather than traditional center shower drains that need four slopes and small tiles, the FreeStyle Linear Drain uses a single slope which allows the use of larger format tile. This provides significant design flexibility. This drain can also be installed at the exit of the shower for barrier-free showers.
The FreeStyle Linear Drain is the only linear drain on the market that employs a membrane clamping mechanism. This mechanical connection provides the most reliable, secure, watertight connection of the waterproofing membrane to the drain. All styles are 16 gauge 316 stainless steel and meets ASME and CSA standards of 300lb load centered on a 2" diameter plate.
Features & Benefits
Single slope to drain allows the use of larger tiles and greater design flexibility
Low profile and high capacity drainage make it ideal for barrier free applications
Membrane clamping mechanism assures a watertight seal with the waterproofing membrane
Waste pipe solvent welded into the drain for a watertight connection
Incorporate NobleSeal® for the most dependable waterproofing system available
One-Piece PVC or ABS construction ensures dependable performance with no manufactured seams
Contemporary styling with a selection of 7 drain lengths and four brushed stainless steel or tile top strainer styles
Save time - quick and easy installation
7 lengths and 5 strainer styles available
Custom sizes available for quantities of 50 or more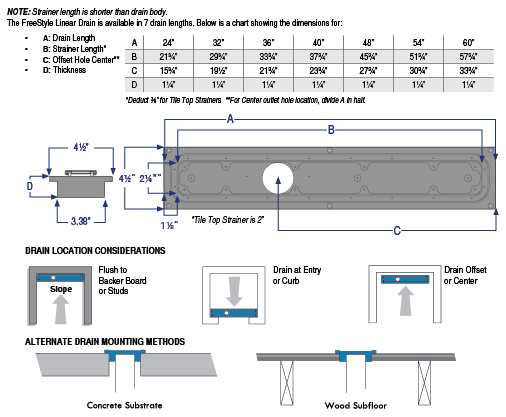 Product information also available on CADdetails.com